About the Welcome Mat Dojo
The Welcome Mat originated January 1966 at the Boys' Club of Santa Monica. The Welcome Mat's name is not original nor was the Welcome Mat it's first name.
Ron Michelson and Brett Wood-Taylor started teaching at the Boys' Club of Santa Monica in California January 1966 and the program grew to about fifty judoka within two years. Ron Michelson left the Boys' Club as its Athletic Director January 1969 to become the Executive Director at the Boys' Club of San Clemente, California.
Brett was asked to become the Head Coach and he named the team "Kaigan" which means "seacoast" in Japanese. This was appropriate being Santa Monica is on the Pacific Coast. In 1975 Kaigan added judo to the Santa Monica Recreation Program and both programs did well. At its height there were 106 active judoka.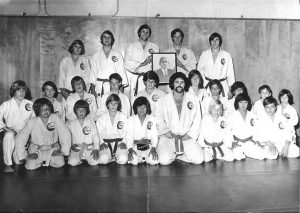 In 1976 Brett moved to Fond du Lac, Wisconsin where he transformed Kaigan into the Scandia Judo Team which lasted until 1986 and then the last name change occurred when Welcome Mat was adopted. Over the years thousands of judoka learned this sport and way of life.
Origins of the name "Welcome Mat".
The Welcome Mat began in the late 1960's above the Haunted House Nightclub on Hollywood boulevard just west of Hollywood and Vine. One entered up the back stairs to an old storage room where wall to wall mats filled the 14 x 18 foot wall padded dojo under the tutelage of Gene LeBell and Hayward Nishioka. Workouts were intense, with technical judo drills of the highest calibre with high level judoka pounding out workouts. One warmed up with 44 laps (equals a mile) around the bar downstairs and then running up and down stairs before the workout. Unfortunately the Welcome Mat in Hollywood was short lived and within a few years ceased as a dojo.
For further information please contact Steve Mattheeussen at 920-660-5768 or Nat Ciesla at 920-539-9708